THE BEST INDIAN FOOD YOU'VE EVER MADE!
Cook or grill with the world's finest Indian spice blends, rubs and recipe cards. Enjoy gourmet curries and outstanding tandoori dishes with your loved ones.  
★★★★★

"So good I ordered the 6 Pack which arrived today. Going to be another great curry weekend"

Best Rogan Josh The Family Has Ever Had

Phillip S
★★★★★

"Restaurant standard curries cooked in your own home. Will be ordering again. Highly Recommend"

Best Home Made Curries!

Keith B
★★★★★

"Having tried the masala lamb chops and tandoori masala rub. I have to say they both taste absolutely amazing and authentic."

Amazing & Authentic

Suki Bhogal
★★★★★

"Hands down the best home curry I've ever made. I used the butter chicken it was fantastic. Excellent friendly service too!"

Fantastic!

Alison B
★★★★★

"My life has taken a turn! I'll never buy other curry powders. Follow these recipes and you'll never go back to takeaways!"

Absolutely Amazing!

Monica
★★★★★

"Yup, it's true as Bob. These spice mixes are bloody brilliant.  they've all been excellent. Really easy to make too!" 

Blimey!

Lucien P S
★★★★★

"What can I say! Another absolutely brilliant spice. Just gets better & better!"

Roast Lamb Raan

Michael B
★★★★★

"This rub makes your chicken go from just chicken to fantastic chicken"

Superb Tandoori Rub!

Jackie P
★★★★★

"I purchased the Old Delhi Butter Chicken blend & it tastes better than my local Indian restaurant, can't fault it one bit. Absolutely amazing flavours 👌"

Fantastic Flavours!

Cameron C
FRESHLY ROASTED, GROUND & BLENDED
Made to the exact specifications of the award-winning godmother of Indian cookery. Our top quality ingredients are expertly roasted, ground and blended in small artisan batches.
ALL THE SPICE YOU NEED
At Mrs Balbir Singh's we ship you gourmet Indian spice blends so you can grill or cook great Indian food at home. You won't have to hunt down, toast, grind and blend the individual spices, as we've done that bit for you. The rest of the ingredients you'll need will be in your pantry, fridge or a local supermarket.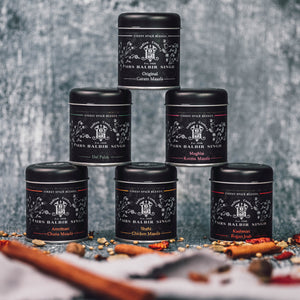 EXPERTLY CURATED
COLLECTIONS
Meat-lover or vegetarian? A curry lover or a tandoori fan? All of the above, or a family with different tastes? We have the collection for you.
EXPLORE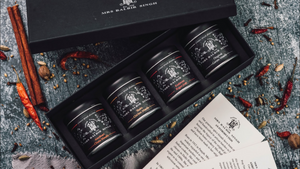 LUXURY
GIFT BOXES
Foil-stamped gift boxes of our premium spice blends to make stellar versions of some classic Indian dishes. Perfect for the curry lovers in your life.
SHOP ALL
AS SEEN IN
WHAT THE EXPERTS SAY ABOUT OUR HERITAGE
The only book that could produce food that tasted like real North Indian.

- Madhur Jaffrey

Author
One of the Best Indian Cookbooks Ever, As Judged By the Experts.

- The Telegraph

UK
Almost every chef of my generation has a special bond with the book.

Cyrus Todiwala

Celebrity TV Chef & Restaurateur
Mrs Balbir Singh's Indian Cookery is the gold standard of Indian cooking.

Colleen Taylor Sen

Canadian author specialising in Indian cuisine
The Indian Delia Smith who is credited with having invented chicken tikka masala.

- The Times

UK
Very satisfying. I used the Tandoori Rub on a number of meats and it worked beautifully.

Shiela Dillon

Award-winning food journalist & BBC presenter
NEVER COMPROMISE
If you like Indian food, you will love our spice blends. Used in conjunction with our recipe cards, you will elevate your Indian food to a level you will never wish to compromise on again. In fact, your friends and family will hail you as an Indian master chef.

We invite you to explore and enjoy our ranges below.